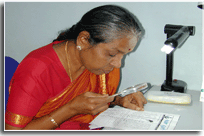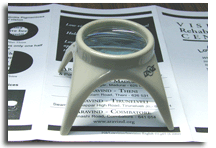 Stand Magnifier
How can a Low Vision Patient function independently?
Low vision aids, counseling and rehabilitation services will help the person to regain the sense of independence. Optical aids include prescribed devices often specially created by the doctor to help reach an individual's visual goals. Electronic devices, such as the closed circuit television (CCTV) or computer software, enlarge print or pictures on a screen.
Non-optical vision aids include: signature or check writing guides; large print checks and calendars; talking calculators, talking watches and alarm clocks; and talking scales or thermometers, to name only a few. Independent living skills training, done in the person's home or in a class setting, and mobility training in the person's community or office setting, all contribute to this sense of independence.

Can all these aids help a person to remain independent?
So much information is communicated visually - signs, textbooks, menus, sales receipts, etc. Visually impaired people struggle with communication barriers that prevent them from gathering and using information. By helping people include remaining vision in their repertoire of resources, low vision devices coupled with Rehabilitation Techniques do allow individuals with vision loss to work, to shop, to study and to perform daily living tasks independently.

Does modern technology help visually impaired people?
Magnification, contrast and lighting can help maximize a person's remaining sight. New technology allows a person to control the size of the print they are reading, to adjust the contrast and color, and increase the brightness. For example, the closed circuit television (CCTV) allows the user to project any document or picture on to a screen and to magnify the document and adjust the contrast. Hand-held scanners and head-mounted devices perform a similar function as the CCTV, but use small cameras to place an image in front of your eyes or on a portable LCD screen. Large print and screen reading programs for computers are a tremendous resource. Advances in lighting technology have helped, as well.